Unfettered.net is committed to delivering quality, non-trivial content that is beholden to no sponsor.
Every dollar donated to Unfettered will first go towards the operational costs of the site. These costs cover the server itself, my own time devoted to server maintenance, and again my own personal time researching and preparing content. Donations also help fund development of my open source projects.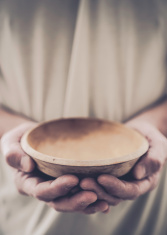 If the donation bank gets full enough, it is my intention to use these funds to finance an extended, up to three month intensive meditation retreat. In the Buddhist view, joyful giving is understood to be one of the great perfections that assist in elevating one up to being a truly awakened sentient being. Please consider this page as the equivalent of a digital begging bowl. If you have gained in some way from the content here and would like to give, please consider donating.
---
Donations can be made using either one of several popular Crypto currency addresses, or PayPal's Secure Payment System below. If you have any questions about donations, the retreat, or anything on this site, please feel free to use the contact link above.
Thank you,
Josh Panter